A collection of funny pictures calling for smiles when celebrities want to travel during the Covid-19 period.
During the detention at home because of the situation, Covid-19 Everyone collaborated at home. Don't go anywhere unless absolutely necessary And staying at home for a long time Many days make many people have to find activities to relax, cook, grow vegetables, exercise or dance. But could not help missing the tourist attractions
Therefore saw a funny picture Of many celebrities who come out to edit their own pictures, like actually traveling With both images and clips Also makes you laugh well In case of going for an idea for bored people Try to change the atmosphere easily. Like these celebrities, cute
Come to the first person, the female protagonist of the lavender fields. Sri Rita Jensen and her busy days looking for things to do. So I edited all my pictures into various tourist spots, mountains, sea, waterfalls and shared them to create smiles for fans. In addition, each pose is very matching. Didn't go true but just saw also freshness as well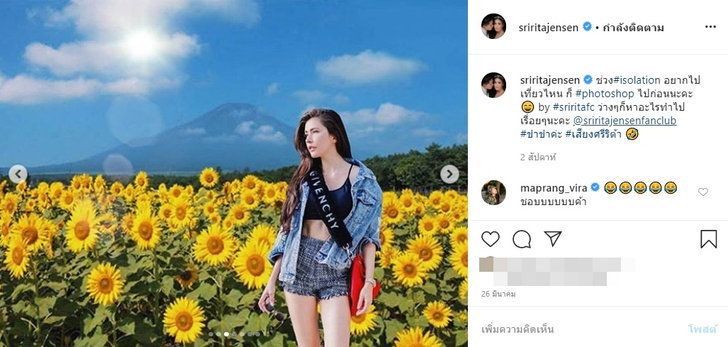 Ying Yanaporn, see that Ying Ya will miss going to the beach a lot. So post sexy pictures in black bikinis. Check in Koh Larn Poses by the sea Have a pleasant trip to take close by, is very smooth Think of traveling really, when scrolling to see that the sea view is the screen on the internet. But can say that at home, but real. This picture of Ying Ya The body is cool too.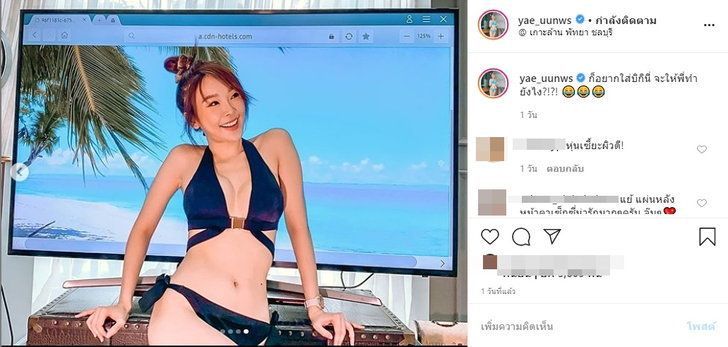 Come to Yaya Urasaya also has a cute and keen angle when fans want to see Phaya Paya go to the sea. Yaya therefore arrange for the view as requested With the picture standing back and saw the sea behind But when zoomed out only So funny. Oh, but can't argue, getting a real sea view as seen